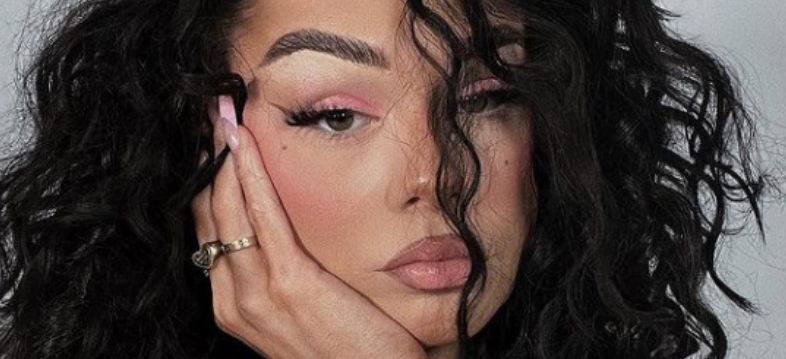 SPOTTED IN GEE HAIR : JORDAN LIPSCOMBE SPOTTED USING OUR EXTENSIONS!
You can only believe our excitement when we discovered that our fave influencer Jordan Lipscombe was spotted using our hair extensions! If you're not familiar with her face, Jordan is a YouTube Star and social media personality. She is famously known for posting makeup tutorials, beauty tips and fashion hauls/try-ons!
If you're up to date with all the UK influencers, you may have seen that Jordan recently uploaded a hair tutorial on her IG. If you haven't checked it out yet, she went for a voluminous curled look and used Gee Hair extensions to amp up the style with added thickness and volume!
If you want to have a go at replicating Jordan's look, keep reading for some tips on how to master the style!
Products you'll need:
Clip and rattail comb
Mirror
Heat protectant
Small/medium curling tong
DETANGLE:

 

Before the curling process it is vital to detangle your own hair and also your extensions to ensure a smooth and seamless look. Bundle the tracks together to brush them all out at once, or if they're more tangled, brush out one track at a time - do so gently and try not to pull at the hair too hard. You can utilise our

 

Gee Hair hanger

 

to make the process easier for you!
PROTECT AND STYLE:

 

Now we can move on to the curling process! In her video, Jordan began with curling sections of her own hair and then clipping in the extensions (that were already pre-curled) after . You may want to do this method or alternatively, you might want to install the extensions before curling and then style the hair once all the wefts are on - it's completely down to you! Curling your extensions whilst they're on may be more effective as you can see where the curls fall and you can decide on which direction you want them to curl. Just be sure to use a quality heat protectant to reduce the risk of damage!
INSTALL THE EXTENSIONS:

 

Feel free to skip this step if you already have them clipped in and ready to go! When installing your extensions, it is easier to start at the nape of your neck and then work your way upwards. Starting with the smallest weft, section off the lower section of your hair (nape of your neck) and clip away the rest of your hair up. Check the horizontal part that you made in the mirror to ensure that it is even and straight. Continue doing this process and work your way up through the wefts. Once you are finished you can begin curling the extensions.
FINISHING TOUCHES:

 

Once everything is all clipped in - you can play with your hair a bit to make sure you're getting the shape you desire. Feel free to go in with the curling tong again if needed! Be sure to be a little gentle with the curls to avoid frizz if that's not what you want to achieve! To finish, use a lightweight hairspray to lock in the style!
And that's it! Dreamy voluminous hair isn't so hard to achieve with the right products! Be sure to shop our Soul M8 hair so you can rock this style alongside Jordan!
Keep an eye out on our blog for more hair tutorials and tips!