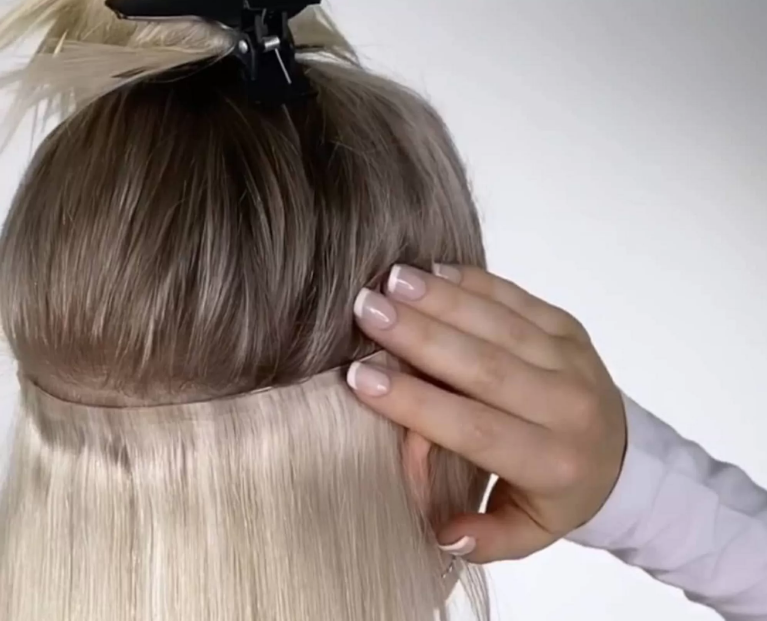 WHAT ARE SYNTHETIC HAIR EXTENSIONS MADE FROM?
Synthetic hair extensions can be a great choice for those who are looking for a low cost, short term or one-off hair solution. But if you're thinking about wearing synthetic hair extensions, it's likely that you'll want to know exactly what they're made from - especially since you'll have them attached to your head!
That's why we've created this handy guide, to answer all of your frequently asked questions such as 'How are synthetic hair extensions made?' 'What are synthetic hair extensions made from?' And 'What's the best type of synthetic hair?'
We also speak to one of our co-founders, Hana Johansen to find out more about who synthetic hair extensions may be suitable for and why.
What are synthetic hair extensions made of?
As their name suggests, synthetic hair extensions are made from synthetic, man-made fibres which are designed to look and feel as similar to human hair as possible. There are various types of plastics that can be used to make synthetic hair extensions, these include Acrylonitrile, Acrylic, Polyethylene-terephthalate, PVC, Silicone, Single-filament polyester, Silk and Vinyl.
What is the best type of synthetic hair?
Kanekalon is the most widely used type of synthetic hair extension, due to its close resemblance to human hair. This material is made by heating both Vinyl Chloride and Acrylonitrile, and forming it into strands to mimic individual hairs. These strands are then woven into hair extensions or hair pieces.
Should I get synthetic hair extensions?
"The synthetic vs natural hair extensions debate is one that many people go through when deciding on their first set of hair extensions" says Hana. "But we often find that once people have tried out natural hair extensions they never go back to synthetic.
"It really depends on the individual. Things you'll want to consider are the look you're going for, the conditions you'll be wearing them in, whether you want to style them, your budget, and how long you want them to last. If you're unsure of whether or not synthetic hair extensions are right for you, check out our handy guide where we explain the difference between natural and synthetic hair extensions. This explains everything you need to know about the pros and cons of each option to help you decide which type you prefer.
"I personally prefer the look and feel of natural hair extensions. They tend to blend much more seamlessly with the hair and have a softer, silkier feel, without the unnatural, glossy finish you sometimes find with synthetic hair extensions."
We hope this information has been useful in helping you to discover what synthetic hair extensions are made from, what the best type of synthetic hair is and whether or not you should get synthetic hair extensions. Whatever type of hair you go with, we wish you the best luck!