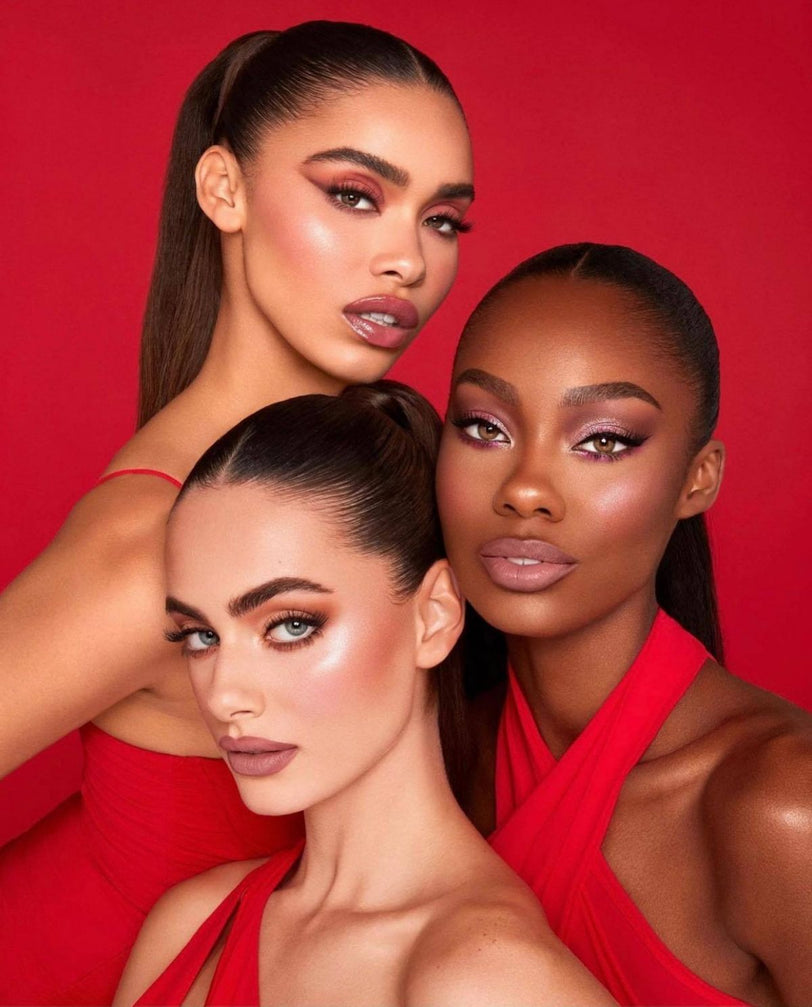 Spotted in Gee Hair : Kylie Cosmetics Valentine's Campaign
If you're anything like us, you'll be up to date with all things Jenner/Kardashian related…If that's the case, then you'll have seen Kylie Jenner's recent Valentine's campaign which showcased her latest drop of new love themed makeup products.
We were delighted to see Gee Hair products being worn by all the beautiful models in the Kylie Cosmetics shoot! For this campaign, iconic hair stylists Luke Pluck Rose and Andrew Kyriakou went for classic high pony styles as well as glossy soft waves. If you missed it, here are some of our favourite images from the shoot:
Want to recreate these looks? Keep reading to see what Gee Hair products you will need:
To recreate the beautiful sleek pony look, you'll need our 'VOLUMIZER' ONE PIECE SEAMLESS CLIP IN HUMAN HAIR EXTENSION. This is the perfect piece for creating a seamless and sleek look that will look both natural and undetectable.
Attached using clips, the 'Volumizer' is a seamless clip in one piece that lies flat & undetectably hidden within your own hair. It is so easy to do this at home, our 'Volumizer' seamlessly adjusts to hug your head's contours for maximum comfort - You'll forget you're wearing anything!
Watch the below video to see the Volumizer in action:
Did you know that we have the highest rated clip in hair extensions on Trustpilot? Have a read through to see what our customers have to say about our high quality products!
This high pony look is one of our favorites for its versatility and the fact that it is so timeless!
Whether you're getting ready for a bottomless brunch with your girls or if you're running errands (but still want to look a lil glam) this is truly the perfect option!
To achieve the effortless soft waves look, keep reading:
For this style, you'll need our beautiful 'MEGABABE' TEN PIECE SEAMLESS CLIP IN HUMAN HAIR EXTENSION SET' .These human hair extensions are our thickest density extensions so you can be sure to achieve a full voluminous look!
Our Megababe set is made up of ten seamless clip in pieces that lie flat & undetectably hidden within your own hair. Again, these are so easy to apply yourself right-from home, feel each piece seamlessly adjust to hug your head's contours for maximum comfort.
Watch the below video to see how our Megababe clip ins work :
Once you have applied your extensions, you can move on to adding some soft waves! Be sure to use a heat protectant before using any heated tools to ensure you keep your hair and extensions in the best possible condition!
We'd recommend that you use a medium sized barrel curling wand to create effortless, beachy waves!
Which is your favourite look out of the two? Be sure to tag us in any pics of you in your Gee hair extensions - we'll share the best looks on our IG, so make sure you're following us!
Remember, if you have any questions about any of our products, feel free to get in touch. If you're thinking about placing an order but unsure of what shade to choose, why not purchase a few of our human hair colour swatches to help you decide?! At only £1.99 you can get the best shade that fit your natural hair to ensure a seamless look! Find your perfect match from the comfort of your home!