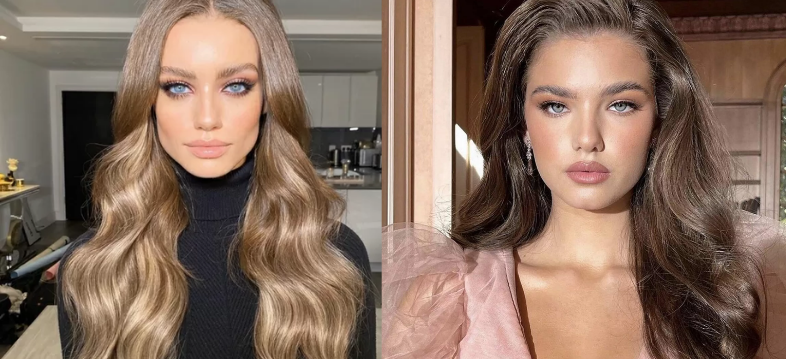 SIDE PARTING VS MIDDLE PARTING: STUDY FINDS WHICH IS MOST POPULAR 2021
The divide between side parting and middle parting fans has recently gone viral on Tiktok and all over the internet! So we thought we'd carry out a study to finally settle the debate once and for all and determine which style is most popular.
We did this by analysing Google search trends and the most frequently used hashtags on Instagram surrounding the two hair styles.
Whenever we're thinking about changing up our look or playing around with different hairstyles, what's the first thing we do? Yep.. we Google it!
So to find out how many people are searching for inspo for middle and side partings, we used the online search tool Keyword Finder and found that as of 10th March 2021:
94,400

 

searches a month are being made for 'Side parting'
Whereas just

 

50,500

 

monthly searches are being made for 'Middle parting'
So what's the next thing we do once we've revamped our hair or created a new look? ...Take a selfie and post it on the gram of course! Duh?
So looking at the latest Insta trends…
The hashtag #sideparting has been used

 

26,542 times
And #middleparting has been used

 

17,450 times
Our very own co-founder Hana Johansen commented "We've finally settled it! When it comes to the most popular style, side partings are the winner hands down, and we're not too mad about that!.
"Here at Gee Hair, we think both side partings and middle partings are gorgeous, when executed right. Just take a look at our snaps of the stunning Belle Lucia and Taylor Ward above and you'll see how gorgeous both styles can be!"
We hope you've enjoyed finding out the most popular parting style. If you usually swear by a middle parting, why not switch things up and go for the side parting? Or the other way around, if your go-to is the side parting, try splitting it in the middle and see what you think!
You never know, you may never go back!