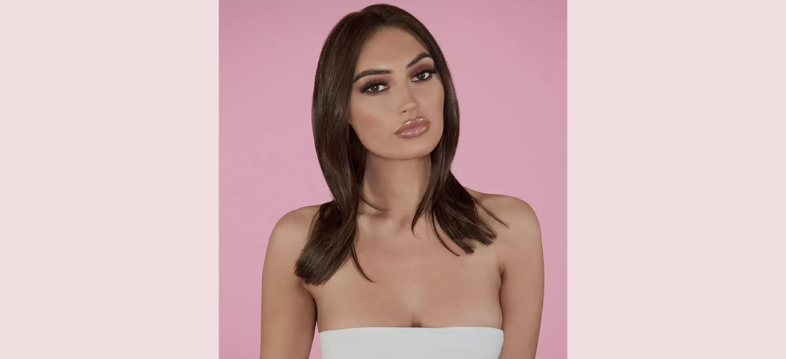 BEST HAIR EXTENSIONS FOR SHORT HAIR
We know how difficult it can be to find hair extensions for short hair and to figure out which short hair extensions are best. That's why we decided to create this handy guide in order to share our top tips with those of you who are looking for the perfect extensions for short hair.
No matter what texture or style your hair is, as long as it's more than around 3-4 inches in length, you'll be able to wear hair extensions. But when it comes to finding the perfect hair extensions for short hair, there are a number of things you'll want to bear in mind to ensure you achieve the best possible results.
Choose Natural Remy Hair Extensions Over Synthetic
If you're looking for hair extensions for short hair that won't look obvious, it's best to always go for natural extensions over synthetic.
The main reason for this is because if your hair is a short length, the part where your natural hair meets the extensions will be much higher up than if you had short hair. This means that if you went for synthetic hair extensions or lower quality natural hair extensions, this transition may look rather clunky and noticeable. However, if you choose natural remy hair extensions (made from real human hair), they'll be much more likely to blend in seamlessly with your hair.
High quality human hair extensions cost more; but with the right care they will last far longer than synthetic extensions and will look much more realistic.
Tape-in vs Clip-in Extensions for Short Hair
When it comes to deciding which type of hair extensions to go for, it can be a particularly tricky decision for those with short hair. There are many different pros and cons to both clip-in and tape-in hair extensions, but the suitability of each depends on your hair current hair type and the look you want to achieve.
Clip-in hair extensions for short hair:
If you're looking to add that bit of extra volume and your hair is already at least medium thickness, clip-in extensions may be the perfect choice for you. They're extremely easy to use and are quick to clip in and out, making them the perfect choice for those who feel they want to wear extensions but would also like the flexibility of being able to remove them as and when they choose.
Tape-in hair extensions for short hair:
If you have fine short hair and want to achieve a longer length and added volume, tape-in hair extensions may be the best solution for you. This type of extension is also great for those who are looking for a more long term option than clip-ins, as tape-in extensions can last up to 8 weeks, resulting in much less hassle for you each day.
Match the weight of the hair extensions to the thickness of your hair
Short hair extensions can look absolutely amazing when worn correctly. Choosing the right weight extensions for short hair is just as important as choosing the right colour. If your hair extensions are too thick or too thin, even if they're the right length, type and colour, it can make the finished result look unnatural and a little obvious.
Instead, make sure you check the description properly before buying any hair extensions. On the Gee Hair website for instance, if you look in any products' details you'll find a suitability rating which specifies whether the extensions are suitable for fine, medium or thick hair.
In a Nutshell: How to choose the right hair extensions for short hair
Our 3 top tips for finding the perfect hair extensions for short hair are:
Choose 100% natural remy hair extensions.
Go for tape-in or clip-in extensions, depending on your hair type and preferences.
Always match the weight of the hair extensions with the thickness of your hair.
We hope this guide has been useful in helping you to decide which are the best hair extensions for short hair. Of course, as with any hair products, the type of extensions you choose is down to your personal preference and if you've used certain types before you'll know which styles work best for you.
If you'd like to find out more about the extensions we offer here at Gee Hair, head over to our website's Help Me Choose section, where we guide you through the process step by step. If you have fine hair and want to know which type of extensions are best for you, check out our most recent blogpost, Hair Extensions for Thin, Finer Hair - Which Ones are Best?
Good luck in your search for the perfect hair extensions and we hope you love whichever type you decide to go with.