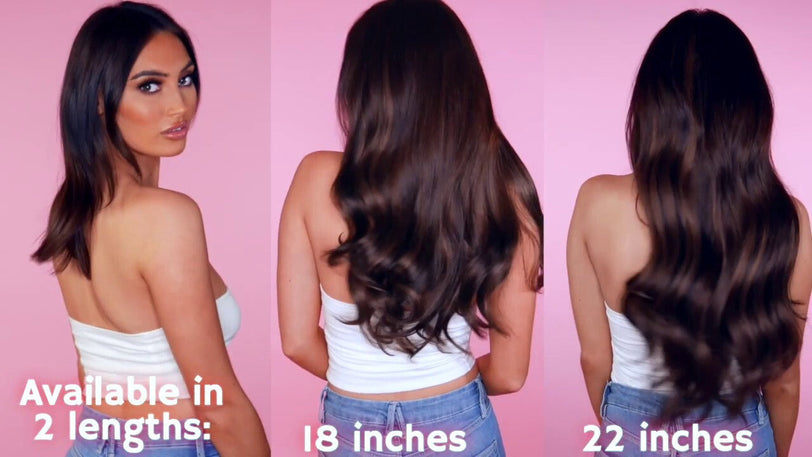 WHAT LENGTHS ARE OUR HAIR EXTENSIONS AVAILABLE IN?
Finding the best hair extension length for your hair and knowing what they will look like once you wear them is such an important part of finding the perfect hair extensions. If they're too long or too short, you may not achieve the look you're aiming for, so taking a few minutes to read through this handy guide will give you everything you need to know when it comes to choosing the perfect hair extension lengths for you.
In this guide, we explain what lengths our hair extensions are available in, before providing our best tips and advice to help you decide which hair extension length is right for you.
Our Hair Extension Lengths
Here at Gee Hair, we have two different hair extension lengths: 18 inch and 22 inch and a variety of thicknesses (weights) available. Before buying your hair extensions, it's important to figure out which length and weight would be best for you.
Which Hair Extension Length is Best For Me?
Different length hair extensions will look different person to person due to a range of factors such as your height, the weight of the extensions, the way they're styled and more.
To find out which hair extension lengths would suit you best, we'd recommend following our handy Size Guide, where you can tell us a little more about your current hair, the look you're wanting to achieve and more in order to determine which length would suit you best.
18 Inch Hair Extensions
How long are 18 inch hair extensions?
The image above shows what our 18 inch hair extensions look like in different thicknesses to help you visualise what they may look on you. As you can see on the model, these length hair extensions tend to fall to around the middle of your back, however this will differ slightly from person to person.
22 Inch Hair Extensions
How long are 22 inch hair extensions?
Our 22 inch hair extensions however, fall lower than the 18 inch extensions. On a typical person, this means they usually sit just below the middle of the back. However again, this will vary from person to person.
How to work out which hair extension length is right for me
The best way to figure out what these different hair extension lengths would look like on you is to get a tape measure and measure from the top of your ear down to the 18 inch mark and see how this feels. Then measure further down to the 22 inch mark and see if you think you'd like to go a little longer.
If you're still not sure which length to go for, take a look at our real life videos on our size guide page, where our models show you exactly what the different lengths look like in real life.
Don't forget - all of our hair extensions are made with 100% remy human hair, which means they can be trimmed to a shorter length or to suit any style you're going for. So don't worry if you're still a little unsure!

We hope this guide has been useful in helping you to decide which length hair extensions are right for you. If you do choose one of the products from our collection, we're sure you'll love it and we'd love to see how it turns out! To show us, take a selfie and tag us on Instagram @geehair so we can see how you've decided to style yours.