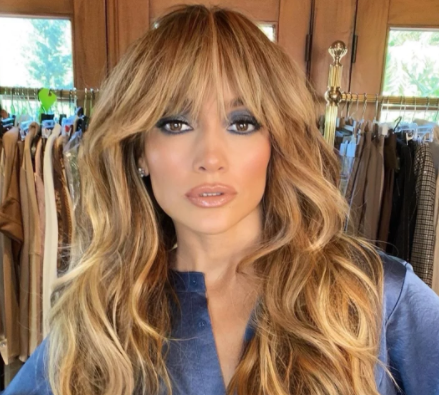 WHAT IS THE MOST SEARCHED FOR HAIRSTYLE FOR 2022?
Here at Gee Hair, keeping up to date with the latest hair trends is so important to us! We wanna know the latest on what you're all loving whether that's the 'haircolor of the summer' or the latest Kardashian style that has our IG feeds going mad!
To help you stay in the know, we conducted our very own research into some of the most popular styles that are trending so far in April 2022. To do this, we checked out what all of you have been searching for on google and what celebs you are looking to for hair ideas. If you're stuck for hair inspo and want to switch things up a bit, we're sure you'll find something that you'd like to try in this article.
Don't forget, just because you want to change your hair, that doesn't mean the effects have to be permanent! With the help of quality human hair extensions you can level up your style a bit without having to do the most! You're completely free to experiment with different lengths and colours so have some fun and express yourself in the best possible way
1. Shag/mullet:
With this iconic look, you are free to channel your inner rockstar with both texture, and volume! Searches for this look have risen a huge 110% since the beginning of the year. This look beautifully frames the face and really works for thin or fine hair. Each month the term mullet is searched a number of 1.8M times worldwide. Adding to this, it is searched 99K times in the UK per month.
This haircut is heavily layered, giving the hair volume and creating a deliberately messy and unstructured appearance! Even though it may look like a low maintenance style it requires a lot of upkeep and the right products so keep that in mind!
If you want to try this style, take a picture of Halle Berry, Miley Cyrus or Suki Waterhouse to your next hair appointment.
2. Curtain bangs
Recently, searches for curtain bangs have risen by a huge 250%! This style has been around for a while but continues to be a look that is favoured by many. This is another style that looks great for a variety of lengths and hair textures. Worldwide, this infamous style has been searched a massive 1.6M times in the past month!
For inspo we can look to JLO, Alexa Chung and Yara shahidi. Despite how tempting it is to DIY your own fringe, we recommend that you always go to a trusted hairstyle who will ensure your fringe is the perfect length to suit your face and create balance. Remember, once the scissors come out, there's no going back!


3. Braided hairstyles
Braided hairstyles have been searched a number of 140K times worldwide in the past month. Each yearBraided styles are always a go to summer hit - you can't go wrong with some boho-inspired plaits or a beautiful braid crown.
This year, we have seen the rise of the 'baby braid' style which features two tiny braids at the front of the head. Look to Hailey Bieber or Margot Robbie if you want to recreate it for yourself!

4. Half up half down hairstyles:
Since January 2022, searches for half up-half down hairstyles have gone up by 170%! In a recent study, we discovered that this hairstyle is searched approximately 107k times a month worldwide! This is truly an iconic style that is suitable for so many different occasions. Thanks to pioneers Ariana Grande and Bella Hadid, this timeless style will be around for a long time. One of the best things about this style is that it is suitable for many hair lengths - whether you're rocking a sleek bob or you've been blessed with long locks, this versatile style will work for you.
Using Gee Hair you can amp up this style and give it some more volume! Why not experiment using either our Soul M8 8 piece human hair extension set which will allow you to add considerable length & thickness to your hair. Also, the seamless tracks on our products are great for wrapping around ponytails! Our multiway weft would also be another great product for added volume to the front and back of the hair!


5. Bob hair cut
A bob is always such a fun, effortless look that can beautifully frame so many faces. It looks like a lot of you agree with searches for this style increasing by a massive 4150% since the beginning of the year! So far, this style has been searched a number of 38K times this past month worldwide.
From the parisian french bob to long bob, there are so many options to suit your face shape. If you're looking for a dramatic change for the summer, this may be one to go for!
6. 90's Hair
Understandably, the 90's is a decade that is favoured by many for it's iconic pull on music, fashion, beauty and hair. This year many 90's influenced styles have returned and we're all the way here for it! These styles include - butterfly clips, microbraids, the infamous Rachel haircut and feathered bangs.
We discovered that 90's hair is searched a number of 26k times worldwide per month. Looks like the 90's is here to stay for a very long time. Why not try some of these styles out for summer 22'?


We hope this has been a helpful guide for you and that we have inspired you to try something new this year. Whilst you're still here, don't forget to have a browse through our site for some products that will help you to elevate your look!

Below, we've compiled a list of some of the worldwide most searched celebrities for hair inspo. This chart shows the number of times the celeb/influencer is searched in a month :
| | |
| --- | --- |
| Billie Eilish | 29K times a month |
| Ariana Grande | 20K times a month |
| Selena Gomez | 11K times a month |
| Kim Kardashian | 9.1K times a month |
| JLO | 9.1K times a month |
| Kendall Jenner | 9.0K times a month |
| Kate Middleton | 8.5K times a month |
| Miley Cyrus | 7.4K times a month |
| Beyonce | 6.1K times a month |
| Kylie Jenner | 5.6K times a month |
| Zendaya | 5.4K times a month |
| Bella Hadid | 4.2K times a month |
| Molly Mae | 3.7K times a month |