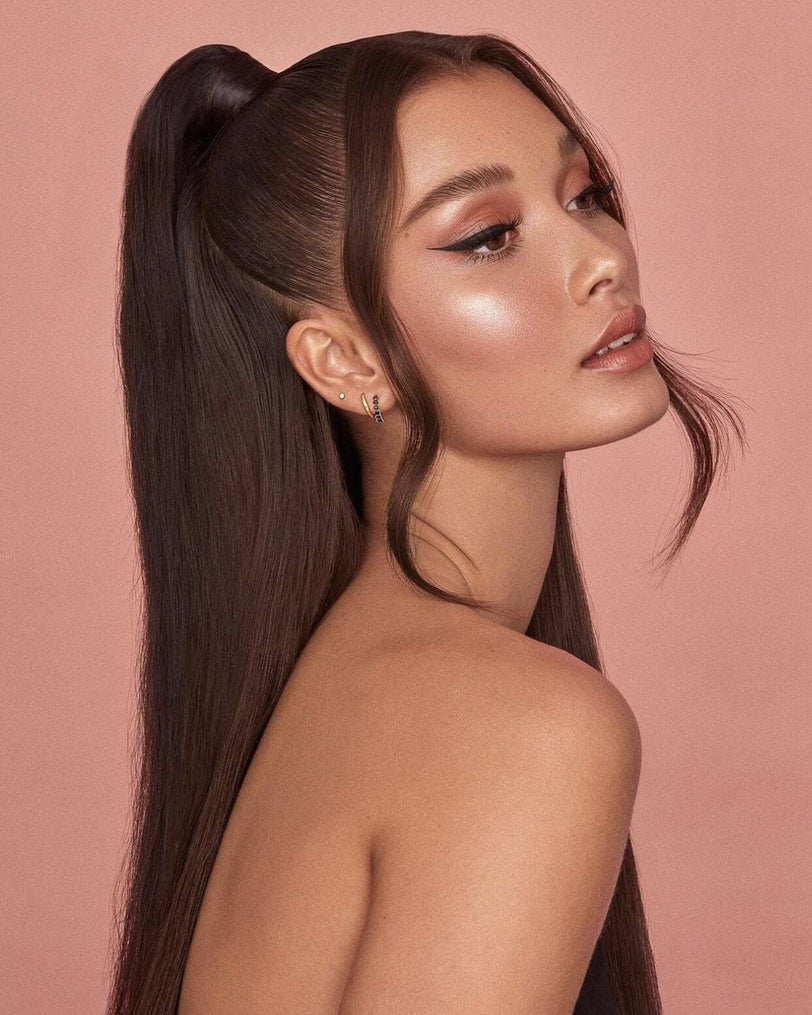 WHAT ARE THE MOST GOOGLED HAIR EXTENSIONS OF 2022?
The hair extension world is constantly evolving with new innovative ideas, styles and colours. Achieving your dream head of hair is now not as hard as it used to be. With so many different brands on the market and so many different options, it's safe to say that you're all spoilt for choice!
Each year, we see a brand new hair extension concept in the spotlight. Usually this happens after we see one of our fave celebs or influencers rock a new style that really shakes the hair world up!
Gee Hair conducted a study to see what hair extension product you guys are loving this year so far. To do this, we investigated the most common google searches in April 2022 worldwide and also looked at how many people searched for specific hair terms in the UK. If you're stuck on what hair extension product to buy, this guide may help you make your decision. Keep reading to find out more…
As mentioned previously, there are so many different styles of hair extensions on the market, but it was no surprise to us that clip-in extensions were the top searched style. We discovered that the term 'clip-in hair extensions' is searched a number of 79k times per month worldwide. In the Uk, the term is searched approximately 21k times a month. One of the main reasons clip in hair extensions are so popular is due to their low maintenance, versatility and easy to install process. Clip in hair extensions are the perfect way to switch up your hair instantly and give you some added length and volume. They are safe to apply from the comfort of your home and are a great non-damaging option.
At Gee Hair, we offer an extensive range of clip-in human hair extensions, ranging from Face Framers to a luxurious 10 piece hair extension sent. To shop, head over to our site now…
The next most commonly searched hair extension product is 'Halo Hair extensions'. Each month, this term is searched a huge 52k times worldwide. Additionally, in the uk it is searched 7.3 times a month. A halo hair extensions is the perfect clip free option for instant length & thickness, undetectably hidden within your own hair. Halo hair extensions are so versatile, easy to install and will change up your hair look without having to do too much! Halo hair extensions give the same look as the usual clip in hair extensions but with a difference - they don't feature any clips, glue or rings and you don't need to braid your hair in preparation to install them! The 'Halo' simply attaches to your head using the invisible wire.
Have you checked out our 'Multi-way weft'? It can be worn 3 ways - As a halo, as a clip-in one piece or as a wrap pony.
The next most popular hair extension product was 'tape in hair extensions'. Tape hair extensions are permanent hair extension that include a sticky tab at the top of the weft which is attached to the hair. Tape extensions are a popular option because they are relatively easy to apply, lightweight and virtually invisible, as they lay flat to the head. In our research, it was discovered that 'tape in hair extensions' is searched a number of 38k times per month worldwide and searched in the uk 7.5k times per month. Tape extensions last approximately 6-8 weeks before needing to be adjusted. Some cons of these extensions include, not being able to bathe, shower or do strenuous exercise for the first 48 hours as bonds may slide. Also, because they are a semi-permanent option they will need frequent maintenance, you will have to avoid conditioner and oil based products as it may cause extensions to slip.
The next, most popular hair extension product searched on Google was 'Microlink hair extensions'. These are searched a number of 24k times per month worldwide. Microlinks extensions are said to be more natural-looking compared to weave and last slightly longer than tape-ins. They are basically small silicone or metal beads that are used to attach tiny, individual hair extensions to small sections of your own hair. Microlinks are very versatile as they come in a wide range of textures and colours. The end result, once they are installed, is usually very seamless. Some of the benefits of the installation process include being completely glueless and braidless and don't require any heat. One of the main cons when it comes to these hair extensions is cost, they can last 10-12 weeks, depending on care and maintenance
Lastly, the next most popular style of hair extensions was the ponytail hair extension which is searched a number of 7k times worldwide per month. Adding to this, these extensions are searched 1.7k times in the uk! This ponytail clip-in is designed specifically for this hairstyle. They are usually very easy to install and may be more comfortable for some to wear compared to other extensions. The ponytail extension will give you a dreamy looking longer and thicker pony, if you're looking to achieve an Ariana Grande-esque look - this is the product for you! One of the many great things about these products is their affordability - you can choose whatever fits your budget whether that be synthetic or human hair.
If you're looking for a great quality extension to help you achieve this style - Check out our volumizer! This one piece weft is designed to give you instant results!
To conclude, we hope that you have found our findings helpful and that we have inspired you to try a new hair extension product this year! If you still need a hand deciding, or would like some advice on what Gee Hair product to choose from - get in touch! We're always happy to help!