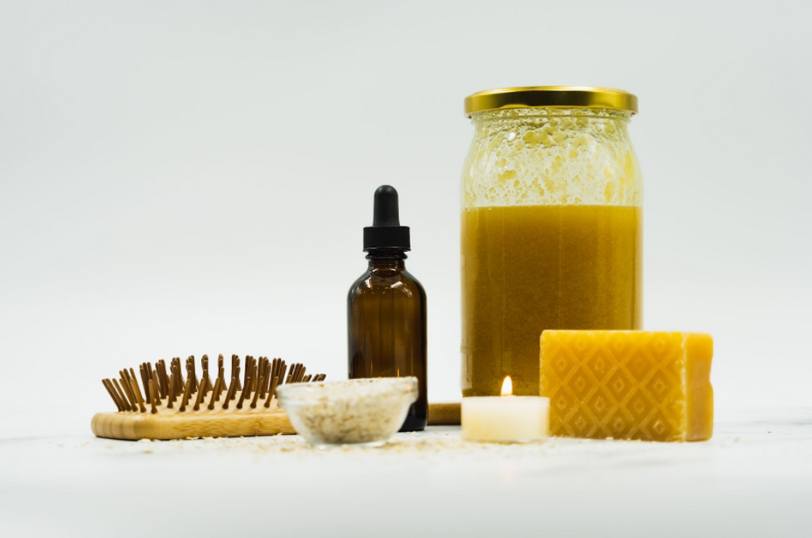 THE 7 BEST ECO FRIENDLY & SUSTAINABLE HAIR PRODUCTS THAT DON'T COST THE EARTH!
If you enjoy using hair styling products, serums, masks and dyes, this does not mean that you have to sacrifice your love for the environment. There are now so many ways of colouring, washing, volumising, hydrating and lengthening your hair using solely 100% natural, vegan and cruelty free methods that are kind to both your hair and the planet.
In this article we share 7 of our favourite eco-friendly and sustainable hair products that are not only good for the environment, but also leave you feeling like you've just stepped out of the salon.
Like any hair treatment or process, we thought we'd kick things off with a good old brush. Most hair brushes on the market today are made primarily from plastic, which as we know, is one of the worst materials when it comes to the environment. Not only this, but the majority of hair brushes are made from a mixture of different types of plastic, meaning that they're pretty much impossible to recycle.
The good news is that there's an alternative that's not only better for the environment but also better for your hair! Bamboo hair brushes are fully biodegradable and are made from one of our plant's most sustainable resources. What's more, bamboo doesn't require the addition of chemicals or toxic substances in order to grow, so the entire process from start to finish is far more planet-friendly than your everyday hair brush.
When it comes to the effect on your hair, bamboo brushes are also a winner! The wooden bristles help to naturally condition your hair and are super gentle on the scalp, which is great for any sufferers of scalp sensitivities. Another benefit of using a bamboo brush over a plastic option is that they help keep your hair looking smooth and healthy, as the bamboo bristles are much smoother than plastic and less likely to snag or snap strands of hair.
We love this one from The Body Shop which costs just £4.00 and is perfect to pop in your handbag!
Our survey of 2,000 UK adults found that on average in 2021, young people spend around 9 and a half hours a week on their hair! So after all that washing, drying and styling, surely it's time to give our barnets that bit of TLC they deserve? And why do it in a way that's natural, sustainable and good for the planet?
Hair masks have a wide range of benefits, from rehydrating your locks to soothing and strengthening each strand of hair, leaving you with a more tame, silky, shiny look. One particular hair mask which does a fantastic job of this, whilst also containing 99% natural ingredients and being both vegan and cruelty free, is Faith in Nature's Coconut and Shea Hair Mask.
At a price of just £5.24 and packaged in 100% recycled and recyclable material, this mask is perfect for both hair and nature lovers.
Shampoo bars are a great way of saving on plastic and reducing your carbon footprint by decreasing your household's non-biodegradable waste! They're also super concentrated, meaning that they last for so much longer than your typical bottle of shampoo. This is because normal shampoos that come in a bottle contain really high amounts of water, in fact if you check the label of your shampoos or conditioners in bottles, you'll probably see that their main ingredient is water!
Instead, shampoo bars help you get that luscious lather really quickly and leave your hair feeling squeaky clean from root to tip. Another great benefit of using shampoo bars when it comes to the environment is that they're far lighter than shampoos that come in plastic bottles. This means that less energy is needed to manufacture and transport them, thereby reducing pollution.
If you fancy trying out a shampoo bar, LUSH do some really great options that are vegan and cruelty free. Their Angel Hair Shampoo Bar for instance is perfect for those with a sensitive scalp and contains a calming blend of rose water, ylang ylang oil and witch hazel extract.
If shampoo bars aren't your cup of tea, why not try a herbal blend shampoo? This one from organic health and beauty company Odylique ticks all the boxes when it comes to organic shampoos. Not only is it vegan and cruelty free, but it's also free from all sulfates (SLeS, ALS, SLS) and has been fully approved by the Soil association.
This gentle shampoo is great for damaged and colour treated hair, and due to its natural ingredients, is also a fantastic option for those with psoriasis, dermatitis, allergies or other skin conditions. It contains a blend of coconut oil, chamomile, aloe vera, rosemary and nettle to help promote scalp health and added shine.
Priced at £12 this one is definitely worth a try!
Changing your hair colour is a great way of expressing yourself and reflecting how you feel on the inside, on the outside! But unfortunately it often comes with a cost, both in terms of damage to our hair and the environment. But that doesn't always have to be the case!
A great method for dying your hair whilst reducing your impact on the environment is to use Henna instead of your typical box dyes or salon dyes. Henna is a fantastic 100% natural hair dye alternative, which has been used and trusted for thousands of years. Simply mix some henna powder with water to form a paste then apply to wet hair. Leave it in your hair for a duration of between 10 and 90 minutes depending on how strong you want the orange/brown colour to come through, and then rinse out!
Not only will this simple swap help to reduce your use of chemicals on your hair, given its 100% natural ingredients, but it'll save you money too, since a 100g pouch costs just £5.45.
Aloe Vera and Blackcurrant Seed Oil Serum
If you're a lover of nature and all things outdoors, you'll love this Feed Your Sunshine Hair Serum by Yarok! This is great to use on both your neutral hair and any natural hair extensions you may have. The serum helps protect your hair from damage, keeping it feel super smooth and shiny.
Before swimming or after a day out in the sun, simply run a few drops of this through your locks and you'll instantly feel the benefits. What's more, Yarok's serum is filled with a powerful blend of organic and all natural vitamins, minerals, antioxidants and oils, which will improve your hair's appearance and feel in the long term.
Even the brand name Yarok means 'green' in Hebrew, aligning perfectly with the brand's sustainable ethos. RRP: £27.00.
100% Natural Hair Extensions
Not to toot our own horn here, but we really have saved the best till last with this one! If you're environmentally conscious yet would love to have stunning long, voluminous locks, then our 100% natural remy hair extensions would truly be your perfect match!
We guarantee that all strands of hair in our stunning extensions are donated voluntarily with full consent from the donor and that a fair price is paid for the hair. Not only are they ethically sourced, but they're also hand crafted with exceptional attention to detail. What's more, unlike synthetic hair extensions, our products are made using real human hair, so no static or wirey plastic strands in sight!
We've spent years perfecting our design and now stock a range of stunning 100% natural remy extensions, from seamless clip-in styles to volumizers, halo hair extensions, ponytails and buns!
Prices start from just £27.58 and we even offer Next Day Delivery from just £0.99!


We hope this roundup of the best eco-friendly hair products has been useful in sparking some inspiration on how to make your hair routine that little bit better for our planet and we wish you the best of luck with all of your hair care endeavours!