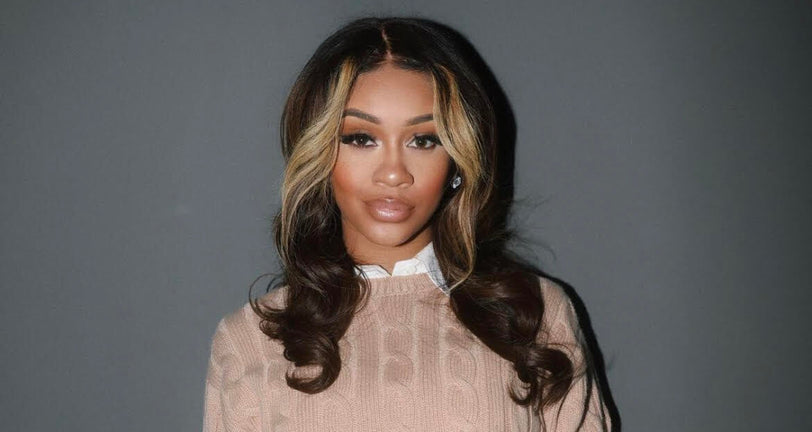 SPOTTED IN GEE HAIR : SAWEETIE SPOTTED IN GEE HAIR 'FACE FRAMERS'
If you're looking to add some more volume, colour or definition to your current hair look - our 'Face Framers'are the perfect piece to help you achieve your hair goals! Don't just take our word for it, even Saweetie agrees too…she was spotted recently rocking our two piece human hair extension set! Saweetie has also previously worn our 10 piece 'Megababe extension set'!
A huge hair trend that has taken the hair world by storm (with no signs of slowing down) was the 'skunk hair'trend which saw many of our fave influencers and celebrities frame their face with a colour contrasting streak. This dual-tone streak has heavy influences from the 90's. Whether you go for something more subtle or something more vibrant, our Face Framers are the perfect tool to help to achieve this style without having to do the most!
If you're a bit reluctant to reach for the hair dye, our seamless human hair extensions are the best option and with a huge variety of colour options and two length choices, we're more than confident that you will find the perfect piece to give you a beautiful look!Think undeniably, natural-looking volume without damage or breakage to your natural hair.
Our Face Framers work especially well for those who are experiencing any signs of thinning to the front of the hair as they can disguise the area without causing further damage or tension.
"So…how do they work?"
The best thing about our products is that they are so easy to install yourself from the comfort of your home. Simply follow these next steps to achieve your hair transformation…
Make a selection within your natural hair on where you would like to place the extensions and clip them in below the section.
Release your natural hair from above the section and use it to hide the c-thu track within your natural hair.
Now that they are in, they will stay in place all day or until you are ready to remove them!
For more information, watch this helpful clip..
So what are your thoughts? If you're currently in a hair rut, we hope you will definitely consider this look to refresh your current style.
If you've tried our Face Framers for yourself, we'd love to see your looks! Don't forget to tag us in your IG pics - we'll upload our faves to our main IG page, so be sure to follow us asap!
If you ever need a helping hand with picking the perfect shade or length, our dedicated team of hair experts are on hand to help! Feel free to drop us a message on Whatsappand we will get back to you promptly!