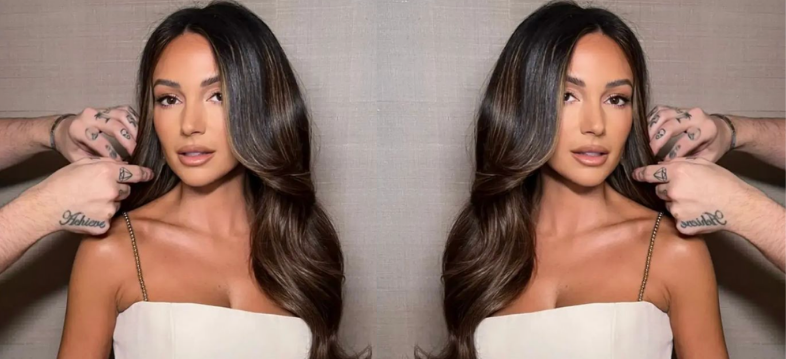 SPOTTED IN GEE HAIR : MICHELLE KEEGAN SPOTTED IN OUR MEGABABE 10 PIECE SET
It's official - Michelle Keegan is a certified 'Geebabe'! We are over the moon to find out that one of our all time favourite British actresses was recently featured rocking our Megababe clip in 10 piece set!
If you're a fan of Michelle Keegan, you also know that as well as acting, she is also renowned for having the most gorgeous head of hair (we're truly obsessed), which is often seen on our IG feeds in the most incredible styles.
If you missed it - one of our fave London based hair stylists, Harold Casey, worked with Michelle to create a gorgeous look which featured both soft waves and volume which framed her face to perfection. For this style, Harold went for the shade 'Espresso' and chose a length of 22 inches for a maximum WOW impact.
You may have seen our Megababe set before…JLO is also part of the A-list Gee Babe community! Iconic celeb hairstylist Chris Appleton recently styled JLO's hair using the ten piece set in the shade Caramel! Head over to our Instagram to see the look for yourself…
Luckily for you, you can achieve Michelle's look from the comfort of your home, all thanks to Gee Hair…
"So…how can I get this look for myself?"
Well first of all, it is essential that you get your hands on your very own Megababe set - If you haven't yet, be sure to make that investment, we promise you you won't regret it…if it's good enough for Michelle Keegan, you need it in your life too…
Once you have placed the hair extensions in, you can begin with the styling process! If you need an extra helping hand with how to place your Gee Hair clip in extensions,

 

here is a helpful video

 

that you can use as a guide!
To get the big, soft waves, curl your hair in relatively thick sections. Begin by sectioning of strands. Don't forget to use a heat protectant to help the longevity of your clip in extensions!
Curl multiple strands of hair in the same direction. Then grab the curled sections of hair and twist them together around your finger to join the hair together. This will create a seamless, uniformed look to your curls.
Finish with a

 

gloss

 

or

 

shine spray

 

for maximum shine!
Will you be trying this look for yourself? If you decide to replicate Michelle's look , we'd love to see it! Don't forget to tag us in your IG pics - we'll upload our faves to our main IG page, so be sure to follow us asap!
If you ever need a helping hand with picking the perfect shade or length, our dedicated team of hair experts are on hand to help! Feel free to drop us a message on Whatsapp and we will get back to you promptly!