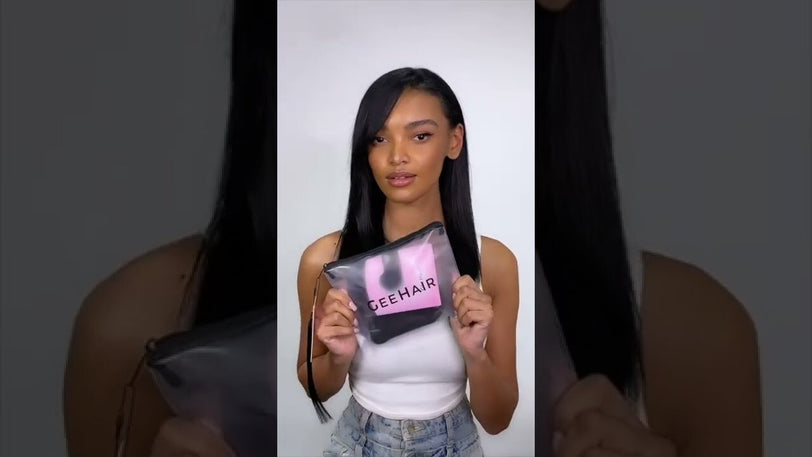 LET'S TALK SYNTHETIC HAIR EXTENSIONS...
In the wonderful world of weaves, wigs and of course, hair extensions - we get the benefit of choosing whatever style we want, whatever length we like and whatever colour we are feeling that week!
Whether you're looking to achieve an enviable, full head of voluminous locks or want to rock the sleek high pony of your dreams - with the helping hands (or clips) of some clip-ins, you can make your dream hairstyle a reality.
However, with so many hair options available on the market, it can be hard to choose the right extensions that will stand the test of time and deliver the way you want them to.
We know it can be so tricky to decide between human and Synthetic hair options. So here, just for you - we break down some of the pros and cons of synthetic hair extensions and let you know why the 'real deal' is always the best option…
"So, what are the pro's of synthetic extensions?"
They are affordable – Okay let's admit it, sometimes we forget about that little Klarna payment that is still pending and we may find ourselves a tiny bit strapped for cash… it happens to the best of us. If you're looking to elevate your hair and want something quick and affordable, synthetic extensions may work for this scenario.
They are available in a variety of styles – One of the best things about synthetic extensions is that there are so many colour options! Whether you're rocking a auburn look or are opting for platinum blonde locks, you'll be able to find what you're looking for without having to look too far.
Now for the cons…
Quality – While synthetic extensions may look good for a short period of time, we soon discover that the quality diminishes overtime. This is heightened when we do things like using heat styling tools, washing them and using hair products on them.
Not flexible – How hard is it to curl synthetic extensions?!! Usually synthetic extensions are very hard/impossible to change up and usually come as they are. This means we can be limited to what styles we are open to.
"Okay, so why should I invest in human hair extensions"
There are honestly so many benefits to choosing human hair over synthetic, lets break it down…
The quality! Nothing beats seamless looking hair extensions - especially when you've colour matched to perfection and it actually looks like you've grown length and volume overnight…
They stand the test of time! Depending on how you look after them they will last you. Instead of having to spend money replacing your synthetic extensions on a frequent basis, opt for something that will last.

 

Our hair has a 1 year quality guarantee!
If you want to change things up, you can get them styled. You can take your extensions to a stylist to cut and dye if you're looking for versatility.
You don't have to worry as much about heat damage to your own hair! We should try and avoid over excessive heat to our hair which is why extensions are a good way to lessen the potential damage!
Lets talk about the cons…
Some may see human hair extensions as pricey (we see it as an investment) compared to synthetic options. While it is true that you may be spending more, in the long run it may actually be saving you come valuable coin!
High maintenance – Just like your hair, you need to take care of your human hair extensions for them to perform the way you want them to. Personally we see nothing wrong with a bit of high maintenance…
So we're all on the same page right? Human hair extensions are 100% the way forward…If you need some more convincing, head to our main site to view our beautiful selection of hair extensions. With a range of colours and lengths, we know you'll find something that is perfect for you! Don't forget you can get in touch should you have any enquiries- we're here to help you!
Make use of our 10% site-wide discount: NEWHAIR ( P.S Klarna is also available on purchases…)