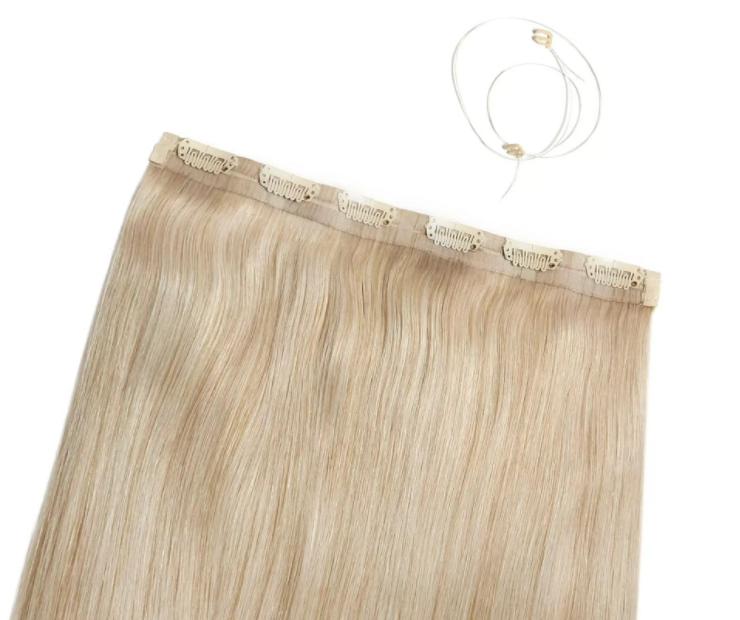 IN FOCUS : HALO HAIR EXTENSIONS
At Gee Hair, we pride ourselves in being an innovative brand that seeks to find new solutions for all the hair extension lovers out there. We understand that not everyone wants to invest in a set of hair extensions, but instead want an all rounder product which will give them the look of a full set but in half the time!
That's where our 'Multi-way weft' comes into play! It is your one piece solution to fuller, longer hair in seconds! It can be worn 3 ways - As a halo, as a clip-in one piece or as a wrap pony.
Halo hair extensions are the perfect solution if you're looking for a hair product that is versatile, easy to install and will change up your hair look without having to do too much! Halo hair extensions give the same look as our usual clip in hair extensions but with a difference - they don't feature any clips, glue or rings and you don't need to braid your hair in preparation to install them!
'So how do they work?'
Our halo extensions are detachable - Each multiway weft arrives with 7 different sized halo wires and works out the wire that's the right size for your head by trying each one.
The process of wearing these extensions is similar to wearing an invisible hair band! With the secure and flexible wire that is included with the weft, you can attach it to the ridge of the back of your head. Don't worry about the weft falling out as the weight of your own hair will keep it from sliding.
To install, all you need to do is section off a small section of hair at the front of your head, and clip the remaining hair up. Once you've done this, you can place the halo extension down and unclip your hair - allowing it to fall over the wire. For a helpful step by step tutorial and for more details of this product click here!
Our halo hair extensions come in one standard width with a length of 18 inches. Perfect for adding thickness and length!
These extensions are perfect for those who prefer not to use clips. Due to the wire, these are designed & handcrafted to hold the perfect amount of strands that instantly transform your hair without slipping, pulling, tugging or shedding. The overall results of halo hair extensions will be thicker, longer looking hair that can be styled in a variety of different ways. One of the best things about our products is that they are human, remy grade quality so you are free to use heated styling tools without any worries!
So to conclude, if you're looking for an easy to install, all-rounder hair product, we'd definitely recommend you try our halo hair weft. If you have any questions regarding the product or about the installation process - please get in touch, we are always more than happy to help!
For all colour inquiries, feel free to contact us through whatsapp by sending us an image of your hair colour - we will do our best to give you the perfect colour match!