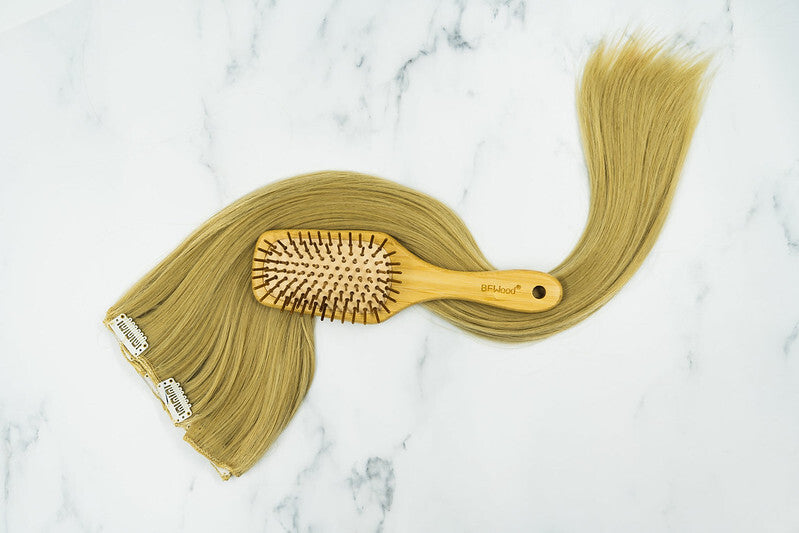 HOW TO TELL IF YOUR HAIR EXTENSIONS ARE GENUINE HUMAN/REMY HAIR
With many brands in the hair market promising top grade, quality hair extensions, it can be increasingly difficult to make a decision on where to purchase. At Gee Hair, we understand that not only do you want to get great value for your money, you also don't want to compromise on the quality and durability of the hair itself.
Unfortunately there are some brands/hair suppliers out there who take advantage of the fact that people may not do much research before buying human hair extensions. As a consequence, these brands may either sell the hair at an extortionate price or even sell hair that is not genuine human hair or consists of mixed human and synthetic fibers.
It is of course always worth doing a quick Google and Trustpilot search before you buy, but sometimes we can all be at fault of forgetting to do this. Unfortunately, sometimes we don't notice these things until we receive the hair and can do a full inspection. Luckily there are ways to tell if you're hair extensions and genuine - here we break down some of the tell tale signs:
Inspecting the natural texture of hair: Depending from where the hair is from, high quality 100% remy human hair will have its own unique natural texture. This is very apparent when you wash the hair and leave it to air dry. It is worth knowing that there is no bulk supply of straight hair in the world apart from Chinese floor hair.
Remy hair is considered the best of the best when it comes to the hair extension world. Virgin remy hair is hair that hasn't been processed with bleaching or dyeing and has come straight from the donor's head. Some remy hair of course can be processed non-virgin hair that has either been dyed to match other shades of hair (remy hair usually comes in a 1b/natural black and brown colour) or has been processed/permed to either match straighter or curlier textures.
Many people love the natural texture of remy hair extensions. We have a great tutorial on how to make the most of your Gee Hair extensions - have a watch now to get inspired!
The burn test: The burn test is a universally known, foolproof test to identify if your hair is genuine. Simply pull a few strands of hair out the weft and get a lighter on hand. If the hair singes and burns upwards while smelling like burnt hair – it is real. If it sort of melts into a ball and smells like burning plastic – it is fake. If you decide to do this test, please do it at your own risk!
Using a microscope: This is how we check all of our products at Gee Hair! Our extensions go through an extensive testing process to ensure that our hair supply is the best quality for our customers. By assessing hair cuticles through a microscope,we can see the quality of the hair. If you didn't know, synthetic hair does not have cuticles. You can also see the quality of the human hair by the cuticle.
So to conclude, it is vital to do your research beforehand, but if you don't we hope we have given you some valuable tips. It is so important to shop with brands who are transparent and informative about our products. At Gee Hair you can see from our reviews, tutorials and endorsements that we are a reputable brand, we are passionate about our products and want our customers to love them as much as we do!
For high quality, remy grade hair - shop Gee Hair! We have an extensive range of products to suit everyone, we're confident you will find something you love!