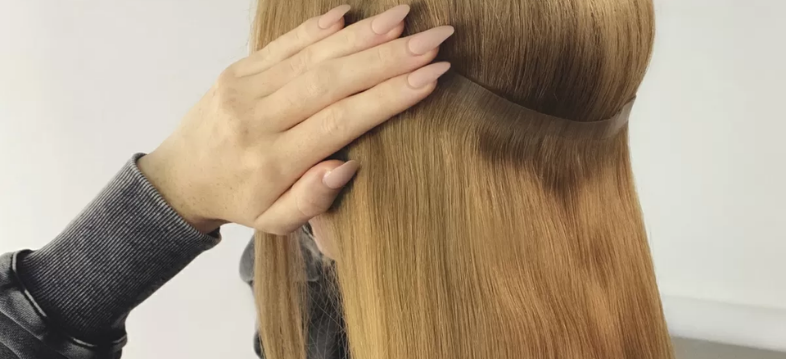 How to install our 'MULTIWAY WEFT' SEAMLESS CLIP IN ONE PIECE EXTENSION'
If you're on the hunt for a simpler solution to wearing hair extensions and you want to avoid the process of installing multiple clip-in wefts - The Gee Hair Multiway weft is a great option for you! This piece is extremely versatile, easy to install and will switch up your look in a matter of seconds! Halo hair extensions give the same look as our usual clip in hair extensions but with a difference - they don't feature any clips, glue or rings and you don't need to braid your hair in preparation to install them!
One of the best things about this Multi-way weft is that it can be worn 3 ways - as a halo, as a clip-in one piece or as a wrap pony. It truly is your one piece solution to fuller, longer hair in seconds.
Our Multiway comes in a huge variety of colour options with a standard length of 18 inches, perfect for adding volume and length.
Head over to our site now and get your very own weft - For our top tips on achieving a seamless installation, keep reading…
The tools you will need:
Our Gee Hair Multiway Weft
Soft paddle brush
Clip and rattail comb
Mirror
To start the process off - Be sure to brush your hair and multiway weft thoroughly to get rid of tangles and any knots. For this you can use a soft paddle brush to ensure you are being gentle with both your hair and hair extension!
One of the greatest things about this weft is that it's just one piece! All you have to do is Section off your hair at the crown, using a rattail comb to help you get the perfect part, Next, tie your remaining hair and the top into a bun. Make sure you leave out some front sections of your hair so that you can hide the track once you have clipped it in.
If you're wearing this piece as a clip in extension, you can go ahead and clip the weft onto your head. If you using the weft as a halo piece, using the secure and flexible wire that is included with the weft, you can attach it to the ridge of the back of your head. Don't worry about the weft falling out as the weight of your own hair will keep it from sliding.
Once everything is all clipped in, you can take down your bun and brush through your hair to smooth everything out ensuring your real hair is covering the multiway weft. Be careful when brushing if wearing the weft as a halo piece due to the wire.

 

See our below image guide on where to apply this set.
Now all you have to do is make sure the weft isn't visible. Gently shake your head and check round the whole of your head using a mirror and see if there are any visible gaps.
Now that you have finished with the installation, you can move onto styling your hair extensions in whichever way you choose. Be sure to use a heat protectant!
To see our Multiway weft in action, watch this transformation video:
https://www.youtube.com/watch?v=HTKqh1wBlsc
https://www.youtube.com/watch?v=fZezXHK7IjA
If you're experiencing an issue with the hair or clip quality, you can email support@geehair.com. Please don't attempt to fix the clip-ins yourself as you can make them worse & avoid your guarantee!