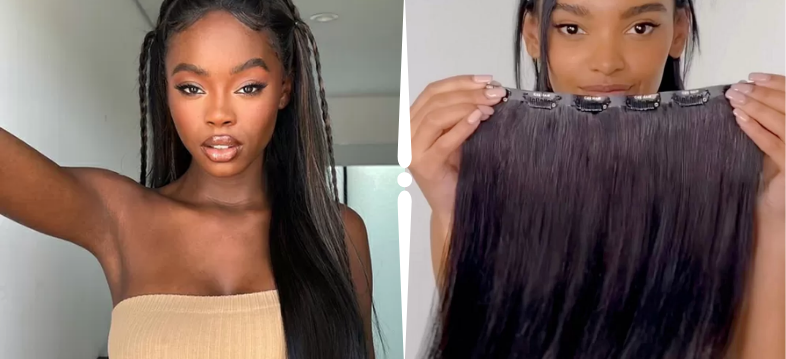 How to install our 'MEGABABE TEN PIECE SEAMLESS CLIP IN HUMAN HAIR EXTENSION SET'
Our Megababe is the ultimate hair extension set if you're looking for standout thickness, volume and length. This set can really do it all! Depending on what kind of look you're going for, you can be assured that this set is perfect for all hair types, particularly medium to thick hair!
This Megababe set features 10 wefts which vary in size and clip number. Each weft has been designed perfectly to ensure that you have a full coverage of hair extensions and can create an enviable and insta-worthy hair transformation!
Much like our other extension sets, our 'Megababe set' comes in a huge variety of colour options and also two different length options. The babes who are looking to add a subtle difference can go for the 18 inch option which is 255 grams thick but those who are looking to make a statement can go for 22 inches which is 300 grams thick!
Head over to our site now and get your very own Megababe set- For our top tips on achieving a seamless installation, keep reading…
The tools you will need:
Our Megababe set of Gee Hair extensions
Soft paddle brush
Clip and rattail comb
Mirror
To start the installation process. It's vital that you detangle your own hair. It is important to do this to reduce the risk of pulling and tension once you install the clips! Have a brush through your hair first and then move on to the extensions and ensure they have no knots or tangles.
Separate all the hair wefts that you are using starting with the smallest ones with the less clips and the biggest with the most clips. When installing your extensions, it is easier to start at the nape of your neck and then work your way upwards. By separating them it will help you see which one to select. This set contains 4 wefts that feature 2 clips, these are perfect for adding volume to the front of the hair and can help to frame the face.
Starting with the smallest weft, section off the lower section of your hair (nape of your neck) and clip away the rest of your hair up. Check the horizontal part that you made in the mirror to ensure that it is even. Continue doing this process and work your way up through the wefts.
Save the biggest wefts (with 3 and 4 clips on) for the crown area of your head as these are effective for adding length and thickness!

 

See our below image guide on where to apply this set.
Once you have added all the wefts, make sure that no wefts are visible. Gently shake your head and check round the whole of your head using a mirror and see if there are any visible gaps.
Now that you have finished with the installation, you can move onto styling your hair extensions in whichever way you choose. Be sure to use a heat protectant!
To see our Megababe set in action, watch this transformation video:
18 Inch Megababe set :https://www.youtube.com/shorts/dDF9EX9UQ6Q
22 inch Megababe set: https://www.youtube.com/shorts/kZ48irhy9wk
If you're experiencing an issue with the hair or clip quality, you can email support@geehair.com. Please don't attempt to fix the clip-ins yourself as you can make them worse & avoid your guarantee!