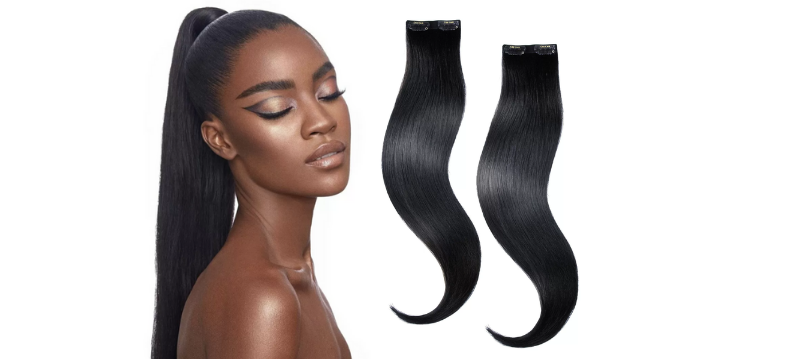 GEE HAIR FACT CHECK: 5 COMMON HAIR EXTENSION MYTHS DEBUNKED!
You may think we're being slightly biased, but there are so many benefits to human hair extensions. With millions of hair extension wearers across the globe, there are many reasons to make the investment - many people chose to wear them due to wanting a quick hair refresh, experimenting with a colour change or even to disguise any hair concerns.
Despite the undeniable popularity for clip in hair extensions, there are many myths surrounding the use of them. You may be contemplating purchasing your own due to over-hearing rumours that have made you have some concerns. Let us put your mind at ease! In this article we will be debunking 5 common myths to help you get started on your hair extension journey.
Myth 1 : "Hair extensions don't blend in and often look fake.."
Truth: With Gee Hair products, this definitely isn't the case! If you didn't know, we are the first brand to pioneer our C-Thru tracks which are 70% thinner than traditional material tracks. This means you will achieve a seamless look that doesn't look bulky. These C-Thru tracks are great for those who have a thinner density of hair as you don't have to worry too much about ensuring tracks are covered.
Adding to this, at Gee Hair we help you to get the perfect colour match. Before you purchase any extensions, if you have any concerns about what shade to choose you can either: Purchase some colour swatches so you can discover your perfect match in the comfort of your home or you can get in contact with us with any questions through our Whatsapp and we will get back to you promptly!
Myth 2 : "Hair extensions are too expensive"
Truth: Whilst we understand that human hair extensions are more expensive compared to synthetic extensions, it doesn't mean you have to break the bank to get a high quality set!
Infact, at Gee Hair we pride ourselves in offering our customers a very competitive price point in comparison to our competitors. In a recent price comparison to ourselves and other extension brand on the market, Gee Hair were reported to be the most affordable!
Adding to this, we also offer student discounts and Klarna payment options where you can pay in 30 days or over 3 instalments! Those who use Paypal can also spread the cost of the payment and get 0% interest for 4 months. For more information, head to our FAQ page!
Myth 3 : "Hair extensions can damage my own hair"
This is a huge concern around hair extensions that may put people off but it is not the truth!
Clip in hair extensions cannot damage or pull out your natural hair. When they are applied correctly, no damage will be done. With Gee Hair you can put these fears to rest due to our Superior patented designs that solve issues of the traditional hair extensions: Shed free and seamless with zero damage to your natural hair. Our extensions are lightweight and will make you forget you're wearing them.
The great thing about clip in hair extensions is that they are removable. Be sure you don't sleep in them as this is what can cause potential damage due to tension. If you have any hair conditions like alopecia, it may be best to consult a hair specialist or your doctor before wearing hair extensions!
Myth 4 : "Hair extensions are too hard to maintain"
This couldn't be further from the truth! Hair extensions should be treated just like your natural hair. Like with your own hair, be sure to not over saturate extensions with heavy products, apply too much heat or apply harsh chemicals too often like hair dye or bleach.
Once you master the art of applying your hair extensions to frame your face perfectly, the practice of maintaining them becomes exceptionally easy and stress free!
If you ever need a helping hand or any tips on how to install your extensions, head over to our youtube channel to see some helpful videos…
Myth 5 : "Hair extensions aren't ethical"
Whilst this may be true for some brands. With Gee Hair we ensure all of our hair products are ethically sourced. We aim to be completely transparent with our sourcing and manufacturing process! All of our hair products are virgin Remy products and are sourced from Indian hair temples. At Gee Hair we can guarantee all strands are donated voluntarily with full consent from the donor, & that a fair price is paid for the hair.
We hope that with this helpful guide we have debunked the top hair myths and made you feel more reassured before purchasing your new hair extensions! We always recommend doing your research and discovering the best products for you. At Gee Hair we cater for a wide range of hair types (thin, medium and thick density of hair) and offer a variety of colours. We are sure you'll find your perfect hair match with us - why not have a look for yourself?!
Visit https://geehair.com/ for more!