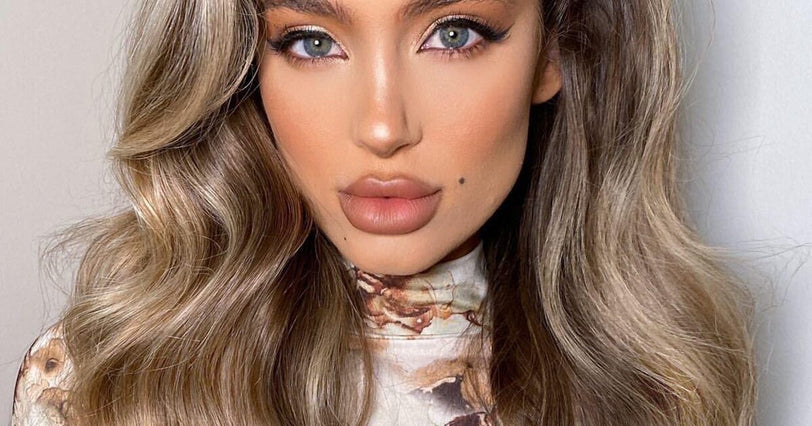 EXPERTS REVEAL THE 5 BEST WAYS TO MAKE YOUR HAIR THICKER
Getting luxuriously thick locks is definitely something that's high up on many of our to-do lists for achieving our #HairGoals. Whether you have naturally fine or wispy hair, have lost hair during pregnancy or menopause or simply want to find ways of adding a little more body and va-va-voom to your current do.
In this article, Gee Hair co-founder Hana Johansen shares her top tips on how to achieve thicker, more voluminous hair. We also speak to Georgia Travis who's the senior stylist at Hair By Georgia at Opal to find out her recommendations for giving your locks a boost of volume.
1. Good Nutrition
"Eating a balanced diet that contains a good amount of protein, healthy fats and plenty of fruit and veg is one of the easiest and most straightforward ways to promote hair growth, and keep it nice and healthy" says Hana. "Foods such as eggs, berries, oil fish, avocados and seeds play a huge role in providing your hair with the vitamins and minerals it needs to thrive. Just finding ways to incorporate some of these foods into your diet can make a really big difference overtime."
Georgia adds, "Vitamins and supplements that have been specially formulated to promote hair growth can also work wonders! I've recently started taking some myself and have definitely noticed a difference. These come in a variety of different forms, from chewable gummies to more traditional pills you swallow. Look out for supplements that contain Biotin as these work really well to stimulate keratin production which helps increase the rate your follicles grow.
2. Prevent Damage
"If your hair is damaged or you have a lot of split ends, frizz and dryness, your hair likely won't look anywhere near as thick as it could," Hana says. "One of my top tips for reducing damage, especially for those with longer hair is to brush it frequently enough. This prevents the hair from becoming knotted and reduces the risk of breakage when trying to brush out tangles."
"Another really useful tip is of course to reduce the amount of heat you use on your hair", says Georgia. "That doesn't mean you have to stop using heat styling tools full stop though, just try to make sure you're giving your hair a break and use a lower heat than you usually would. Heat protection spray is also an absolute must before you put any heat anywhere near your precious locks!"
3. Use Nourishing Treatments
"Nourishing products that repair the disulphide sulphur bonds in the hair are an excellent way to create the appearance of fuller, thicker hair. Using shampoos, conditioners and leave-in treatments that work in this way such as Olaplex can make a really big difference to your hair. Not only can they help reduce damage that's already been done to your hair, but they can also help strengthen the hair to prevent future damage and create more volume and shine." Georgia adds.
4. Be wise with your haircuts
"A lot of people want longer thicker hair, so decide to leave it to grow out. Although this might seem like a good idea, it's definitely not the best way to go about it. If your hair is already broken, it will just grow out long but be very thin. This is usually because of breakage further up the hair shaft, or if you've had layers and they've broken too.
"When growing your hair, you need to have it trimmed regularly - not leaving it to 'grow out' for 6 months at a time! When growing your hair I'd usually recommend leaving around 8 to 10 weeks between appointments.
"I can actually speak from my own experience on this, as I was wanting my hair to grow longer and thicker, so I took the plunge and decided to cut it to my shortest layer. That way, with no layers it's at its thickest as is all one blunt length which creates a much thicker appearance. My hair is also much healthier now and is growing so much thicker than it was before."
5. In the meantime, cheat! (we won't tell)
Hana adds, "If you want to find a way of making your hair instantly thicker and more voluminous then I'd definitely recommend using a Volumizer or some Face Framers. These volumizing hair extensions are perfect for creating a thicker, fuller look and are super versatile so can be worn in ponytails, buns, half up half down styles or just left down. What's more, they're made using 100% natural human hair, which blends seamlessly with your real hair and is so lightweight that you'll hardly even feel they're there!"