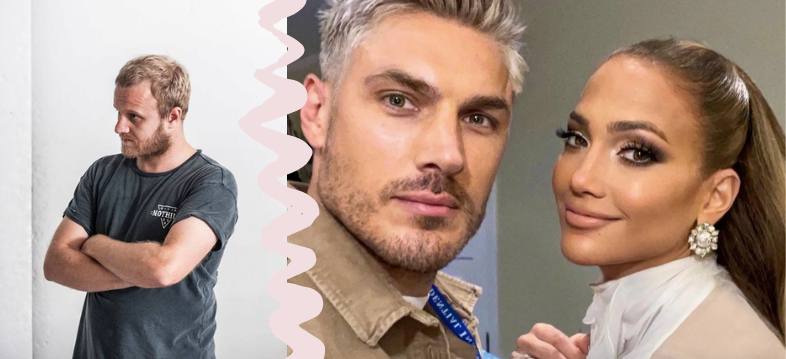 5 INSTAGRAM ACCOUNTS THAT YOU NEED TO BE FOLLOWING!
If you're currently in need of some fresh hair inspo or if you're on the lookout for someone who can give you the best product recommendations, we've rounded up some of our favourite IG accounts who you should add to your 'following' list! We are always on the hunt for emerging hairstylists and influencers who are shaking things up in the hair industry - luckily for us, inspiration is just a few swipes away…
Luke is one of our favourite hairstylists! He is also the Creative Director and head of Saks Art Team. Luke collaborates frequently with top UK makeup artists, fashion and beauty photographers and stylists. With years of extensive knowledge, he has produced some stunning work which can be demonstrated through his Instagram account. Luke also uses Gee Hair for many of his beautiful hair transformations - he recently used our products for a recent Kylie Cosmetics campaign. Have a scroll through Luke's page to see some stunning red carpet looks, campaign shots and salon transformations!


You may have seen Cynthia on your FYP if you're on the hair side of TikTok! Cynthia Dhimdis is a renowned hair guru who create easy-to-follow hair tutorials that we can all follow from the comfort of our homes. She achieved her professional hair license in 2017. She began learning tricks of the trade by assisting celebrity hairstylists and used that knowledge to build her large social media following.
As well as hair tutorials, Cynthia also shares her favourite hair products which is great if you're looking to try new products but unsure of what brands to opt for.
Be sure to check out her videos on Youtube and Tiktok!


Iconic celebrity hairstylist Chris Appleton is highly regarded for his amazing, highly sought after work for some of the biggest names in the music, entertainment, fashion, and advertising world.
Originating from Leicester, Chris frequently works with big names including Kim Kardashian and JLO.
Chris is renowned for the popular 'glass hair' look and the 'snatched' pony. Chris was also spotting using Gee Hair for a TV appearance on ITV's This Morning. He used our Megababe clip-in set for a live hair transformation.
With his Impeccable attention to detail, paired with enviable creative vision, has made Appleton into one of the most in-demand hairstylists today.
Kim Kimble is a renowned hair stylist and afro hair educator. She has worked with many iconic names including Zendaya, Beyonce and Nicki Minaj! If you're clued up on the most in demand hairstylists, you'll know that Kim was responsible for all the amazing hair looks in Beyonce's Lemonade project! She is also currently working on the Euphoria set providing some beautiful looks on the star studded cast!
Now with a hairline catering to women of colour with various textures, Kim's work has also been featured in Vogue, CR Fashion Book, Vanity Fair, Harper's Bazaar, ELLE and Allure.
Nyane is an online digital creator and fashion and beauty influencer. She is renowned for creating some beautiful standout hair looks on the gram. She experiments frequently with different styles, hues and textures, establishing herself as a hair guru. If you've been following Nyane for a while, you'll know that she quickly rose to fame on blogging platform site Tumblr. She is now among the top beauty influencers in the business and the sky is truly the limit.
If you're looking for some hair inspiration and are looking to upgrade your hair look - we definitely recommend that you give Nyane a follow!